Travel and Accommodations
Travel
Organised shuttle from Budapest Liszt Ferenc International Airport is possible.
Please contact: Ms Szilágyiné Asztalos Éva (RTUD), asztalos.eva@drhe.hu

Debrecen is easily accessible by all means of transport due to its favourable position in the international road and rail network and its international airport.
By road

The main regional hub of Eastern Hungary, Debrecen is easily accessible from other major cities on Highway M3 as well as Routes 4, 33, 35, 47, 48, and 471.
By rail

Hourly InterCity services from Budapest Nyugati Station via Budapest Airport; InterCity services every two hours from international railway hub Budapest Keleti Station; Hortobágy EuroCity Train provides a direct link between Vienna's Main Railway Terminal and Debrecen every day of the week.
Each part of Debrecen can easily be reached by tram, bus or trolley bus departing from or stopping in front of the main railway station of Debrecen. The main ticket office of the local public transport company – DKV – can be found in front of the building of the railway station where tickets and passes can be purchased every day of the week.
Web: elvira.mav-start.hu
Web: https://tickets.oebb.at/en/ticket
By air

Debrecen can be reached from several big cities of the world – London, Brussels, Eindhoven, Paris, Moscow, Palma de Mallorca, Corfu, Zakhyntos, Bourgas, Antalya, Larnaca and Tel-Aviv – via Wizz Air's scheduled flights. On 11 April 2016 Lufthansa opened a new direct air route between Munich and Debrecen.
Web: www.wizzair.com
Web: www.lufthansa.com
Accomodations

Centrum Hotel Debrecen ***Superior
H-4026 Debrecen Kálvin tér 4.
Web: www.centrumhotel.hu
Pension: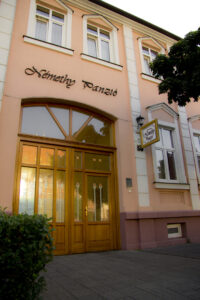 Némethy Panzió
H-4026 Debrecen, Péterfia Street 50
Web: http://www.nemethypanzio.hu/eng
Dormitory
Only for PhD students, and students!

Maróthi Dormitory
H-4024 Debrecen, Blaháné u.
Web: kollegium.drhe.hu/marothi-kollegium